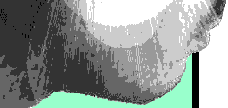 01.14.05
click to enlarge





















Here I am back again. Thanks for your patience during this long Hunkabutta drought.

These past six weeks have been characterized by sleepless nights and visiting family members. Evie is doing great, she's gaining weight like a sumo wrestler on a McDonald's binge, but she's also a cranky baby compared to Jack. I think Jack spoiled us in this regard because he was such an ultra mellow baby, hardly cried at all.

Since my last post pretty much all of our family members have come for a visit at one time or another: My parents, Karen's parents, Karen's sister Julie with her husband Rene and baby Solange, and Karen's brother Dave and his girlfriend Hannah. We went through a lot of beer and turkey, let me tell you.

Anyhow, I know you must be wondering why I haven't been keeping up with Hunkabutta or writing more about life here on the Sunshine Coast. I guess the simple answer is that I've been feeling burnt out in regards to this web site and photography in general. I've hardly taken any pictures since I've returned to Canada, and I've developed a literal aversion to computers, I scarcely even check my email anymore.

I'm not sure what's up with this sudden lack of enthusiasm, but I suppose that in some ways Hunkabutta (in my mind at least) is part of my life in Japan, and that's something that's behind me now. Also, getting my new house and property in order is such a monumental and ongoing task that it's been absorbing all of my creative energy. All I can think about is landscaping, chainsaws and finishing carpentry.

My lack of motivation seems to go a bit farther still. Lately I feel that I've lost my 'eye'. I used to walk down the street and 50 different photographic opportunities would jump out at me, I'd see potential photographs in everything, but lately it's been feeling like I couldn't take a decent picture if you dropped me in the middle of the Playboy mansion during a heat wave.

I've never been much into nature photography, and I don't want a blog that is focused on my family, but unfortunately that's all that's in my life right now--tress and babies. That's great for me as a person, but not so great for my photography.

So, I suppose I have to find a new muse. I used to write about and photograph Japan for friends and family who where living in Canada, but now that I'm back in Canada what am I supposed to do? I feel like I'm trying to sell a loaf of bread to the baker. Who wants to hear about my experience shopping for groceries at the local IGA when they've got their own IGA just up the street?

Well, not to worry I suppose. Something will come to me. I have no plans to let this site go off into the Internet ether, but the format and posting schedule may have to change to accommodate the new realities of my life. Something new and fun will come up, it always does, in the mean time, thanks for your continued support and patience while this blog is in the process of rediscovering itself.





11.27.04
click to enlarge






The rumours are true--we had a baby girl. Her name is Evelyn Frances Clarke. She was born at 4:30 in the afternoon last Sunday, November 21st, in a little birth pool in our family room.

It was a great birth, a wonderful way to come into the world, almost textbook in its alternative naturalness: There was low light and candles, tea-and-honey ice cubes to suck on, and the sun slowly setting behind the garden trellis out the big window. Karen laboured in our own bed for most of the morning, and then when she started to get really uncomfortable she moved into the tub. It really made her feel a lot better. Then the next thing I knew, she started going at the pushing thing 110%, no holds barred, and POP, out came little Evie. It was really quite amazing. One minute there's one person floating around in the pool, and the next minute there's two.

Both mom and baby are doing well. Unfortunately Evie is a real night hawk, just like her dad, and she wants to sleep all day and slowly nurse all through the night, so that's starting to take its toll on Karen, who really needs her sleep right now. Jack has been a great big brother so far. He's very affectionate and likes to stroke Evie's head and give her kisses.

I've just been doing my best trying to take care of everyone and the house as well. If you can believe it, we're still not finished unpacking all the boxes yet.

Things are going really well here in Roberts Creek.





11.05.04
click to enlarge






/


I'm back in the world of the living -- well, at least the world of the blogging.

I know it's been a really long time since I've posted, but I kind of needed a break. Thanks for checking back.

I spent the entire month of October doing renovations on our new house and rental cottage--painting, cleaning, ripping out old floors, putting in new floors.

The floors are down now, and most of the painting is done. The place looks better but it still needs a lot of work. It's going to take a long time to exorcise the spirit of 1976 from this place, let me tell you.

Karen and Jack finally came up a few days ago and everyone is loving it.

Jack is such a city kid. He hasn't really realized yet that he can go outside and play in the garden and forest. He just runs around the living room, which is huge compared to our old Tokyo apartment, and jumps on all the new Ikea furniture.

Karen is doing well, although she's slowing down quite a bit now because the new baby is due in three or four weeks. We're going to have it at home with a midwife, and I think we'll also probably rent or buy a birth pool because Karen is all into the 'relaxing water' thing right now.

I've had a great time up here so far. The people are great--friendly and slow moving. Everyone seems to have time to just stand around and chat, whether it's while you're buying gas or standing in front of the bank machine.

Roberts Creek is certainly not Tokyo, but it has its charms, and we're only just starting to discover them.

I'll tell you more later.





10.02.04
click to enlarge





We took possession of our new house today. Hooray for us!

We still haven't moved in though. I'm going to be spending about three weeks up there by myself painting the house and rental cottage as well as laying some new floors. Karen will be staying at her father's place in Surrey with Jack while she continues to do her editing work.

These past few months have been the most hectic of my life, without a doubt, and I'm really looking forward to things slowing down a bit.

While I'm at the new house I won't have Internet access for a while, so I may not be updating Hunkabutta regularly. Please be patient, I'll be back up to speed as soon as I can.

Well, I have to get to bed now. It's 1:30 a.m. and Karen's brother Dave is coming here early tomorrow morning to help me with the moving. We rented a giant U-Haul truck that I'm too afraid to drive. We have to stop at about seven different places throughout the lower mainland in order to pick up all of our stuff, which is in storage in various locations, as well as to pick up new furniture and flooring that we bought. Then at the end of the day we'll be getting on the ferry to head up to the coast and the new house. Dave will stay over night and help me with some stuff around the house tomorrow morning before he has to head back into the city to return the truck for us. After that, I'll be on my own: just me, a thousand square feet of reclaimed fir flooring, and my banjo. It should be a fun combination.

Wish me luck with the renos. It's my first time.

------------------------------------

Note: Our friend Aileen from Tokyo, also a frequent Hunkabutta commentor, has a funky new blog. Check out printedmatterpress.com right now.


-------------------------------

Check out previous entries